Next Event!
Tampa Convention Center
Tampa Convention Center, 333 S Franklin St, Tampa, FL 33602, USA
Fri, Jul 15, 2022 12:00 AM
Mon, Jul 18, 2022 12:00 AM
---
Bulletins:
June 09, 2022 - New Website Feature: Spells!
New Website Feature: SPELLS!
Now on the website, all the spells that are publicly in the book! (This means no player-created spells). This includes all the info you may expect: level, who can cast it, what type of magic it is, the verbal, and the description! On top of that, you can even hear an example of the verbal!
On top of that, any skills that mimic or are linked to a spell now have a link to that spell on the skill page!
Spells are sorted by a variety of ways. You can see them by spell art (the default), by spell level, by spell type...and if you aren't on mobile there's room to also show All Spells, and all Ethereal or Terrestrial spells!
The link lives in the sidebar, all you gotta do is click on "Rules & More" and then Spells!"
As always, if you have any questions, comments, or if you notice any errors (I'm only human), feel free to reach out to me!

Check it out at https://mythicadventures.org/spells
May 25, 2022 - Feypril 2022 Photo Gallery!
With the Bazaar of the Moon 2022 only two weeks away, check out some great featured photos from our Feypril 2022 event over at our Gallery!
May 20, 2022 - New Site Features!
Our Info section has been redesigned to have a new navigation feature to easily jump between the different Info sections: Info, New Players, Health & Safety, and Pull List!
Pull List? What's that? Our new info page! The Pull List Page has a listing of all of the various item tags you can get with our Gather skills! It is organized by the Source Skill as well as it's Tier/Rarity. In addition, you can filter by the various sources and tiers!
May 17, 2022 - Registration for the Bazaar is now live!
Registration for the Bazaar is now live!
Please see the instructions on our Info Page on how to register for an event! Cost for this event is $25.
Reminder: This event allows both teaching and preproduction! Preproduction is due on Friday, May 20th.
April 28, 2022 - Tavern Menu for Feypril 2022!
Our amazing Tavern Staff has revealed the menu for the 4/1-4/3 game! Check it out below!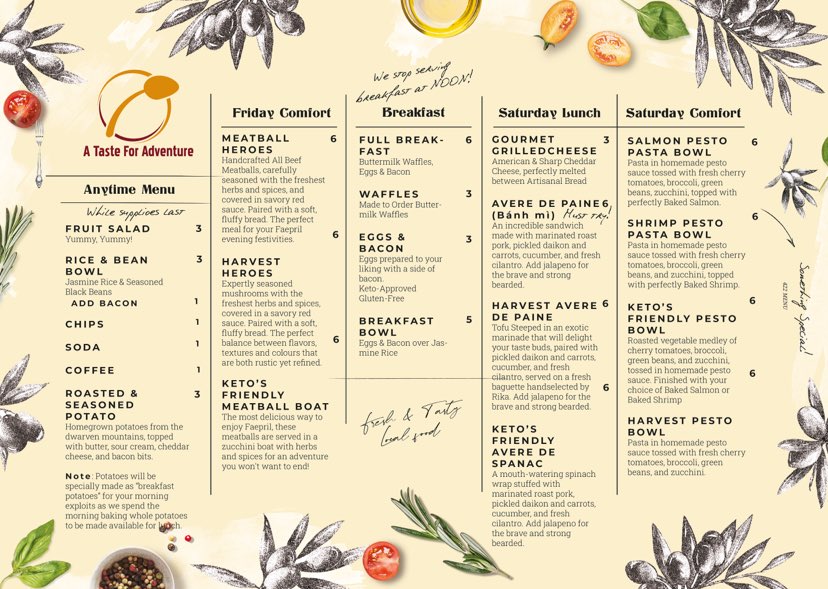 ---