Next Event!
Camp Geneva
6540 Vía Marcia, Fruitland Park, FL 34731
Fri, Dec 16, 2022 6:00 PM
Sun, Dec 18, 2022 4:00 PM
---
Bulletins:
November 29, 2022 - Yule specials and Yule is special.
☆☆☆☆☆☆☆☆
Yule specials and Yule is special.
☆☆☆☆☆☆☆☆
After such an amazing roleplay heavy event, how do we top it.
Well with food and good cheer and more food, of and maybe some strange mime like creatures, but I digress, with food!!
Yule is one of our biggest events and a great night Saturday of Feasting and sharing.
Ryan Donaldson will be handling the main part of feast and later explain how he wants to do Everything.
For Mythic's part, registration will open up Tuesday December 6th at noon. Contact Amanda at mythicsignup@gmail.com as always.
Because this is a very busy time in real life, I am going to try again to accommodate those of you who can only make Saturday for the festivities and great Feast.
So for this event only, I'll have a pass so you can be here Saturday, if you can't make the whole event.
You can purchase a Yule Day Pass for $40, and attend Saturday from noon until 10pm
This does not include a camping space or cabin space, and feast is a separate thing again handled by Ryan.
I just want to see all of you have the chance to come share food, friendship, pie, desserts, and the actual pageantry that is Yule.
Also there will be candy canes and truffles aplenty again this year.
- Gary
November 29, 2022 - November Remembrance Check Out is Live!
**Official Library Post**
Hello Our Mythic Peoples!
We apologize for the longer post ahead!
I hope everyone had a fantastic game this past weekend. We have a few things that we want you all to be aware of before checkout link is opened.
1.) Please ensure that you are filling out your player and character name on both sides of the pink card. Please also ensure that you are marking off any lives lost.
2.) Last event you may have noticed that you can attached pictures directly to the google form. You must have a Gmail account to use this option, but it is available if you want to do this instead of emailing your chits and pink cards. The email option is still available to use.
3.) We have added a question on the google form of "Do you want to move any player XP onto your character?" The library will not move XP out of the player XP bank unless explicitly told to do so by you the player.
With that being said, the checkout link for Remembrance 2022 is now open! It will be open for just under ONE WEEK.
**Checkout Process**
1.) Please fill out the Google Checkout Form found at: https://forms.gle/oB94v1kNh7oHeBRK9
2.) Please either attach or email any teaching certificates for skills that were learned at the event. The email to turn into is mythicadventuresteaching@gmail.com.
**Students should be the person turning in teaching certificates.**
The Google Form is open Monday 11/28/2022. It will close in a just under one week on Saturday 12/3/2022.
Thank you!
Your Head Librarians: Niky💚 & Chris🍻
November 23, 2022 - Tavern Menu for November Harvest Event!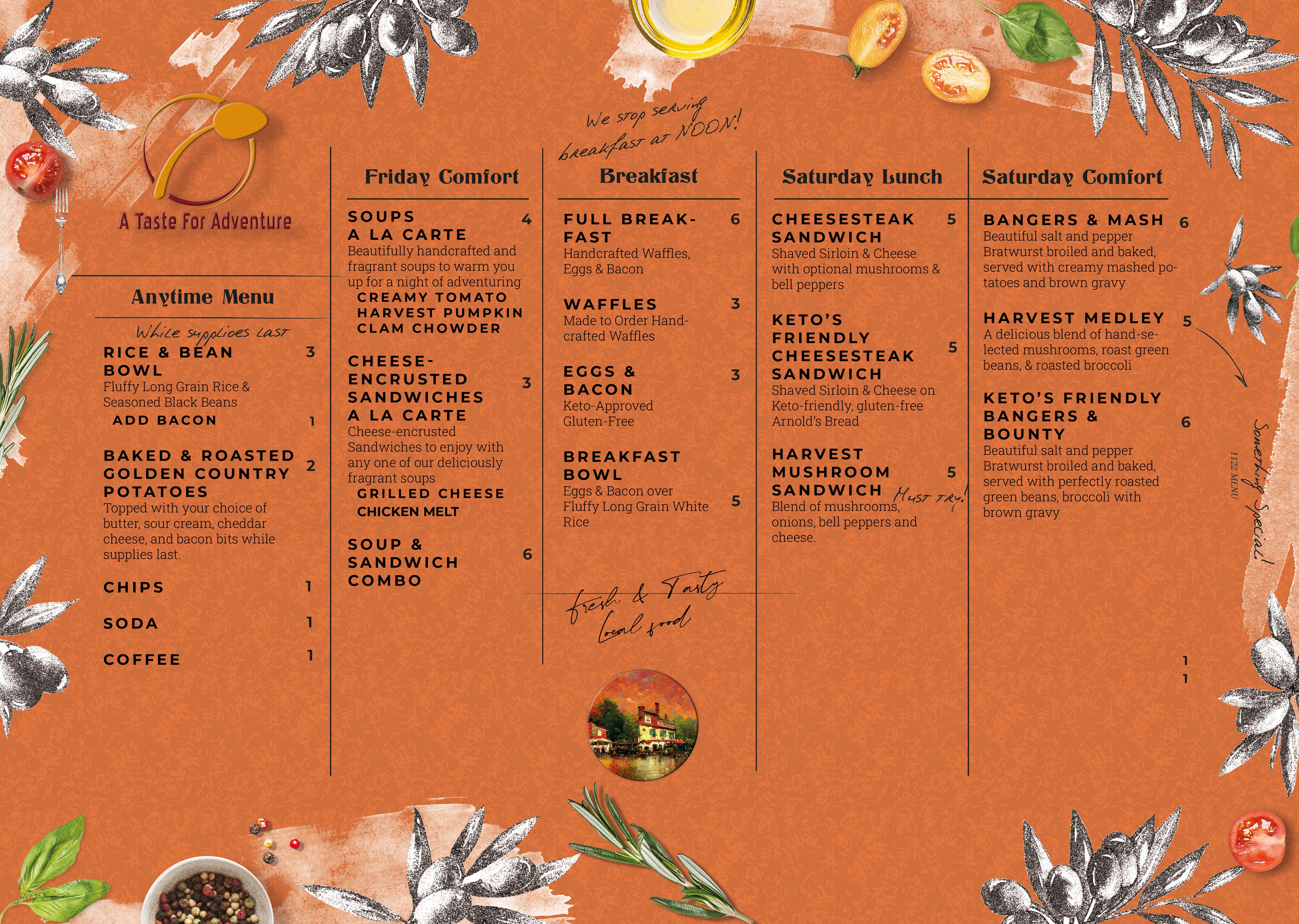 November 08, 2022 - Remembrance & Bounty Registration
****Official Staff Post****
Remberance and Bounty is now LIVE!
Check out our How To Register page if you need a reminder on registration instructions.

The following paypal link will allow you to pay for the event via Paypal: Remembrance Event Payment
October 24, 2022 - Tavern Menu for All Hallows' 2022!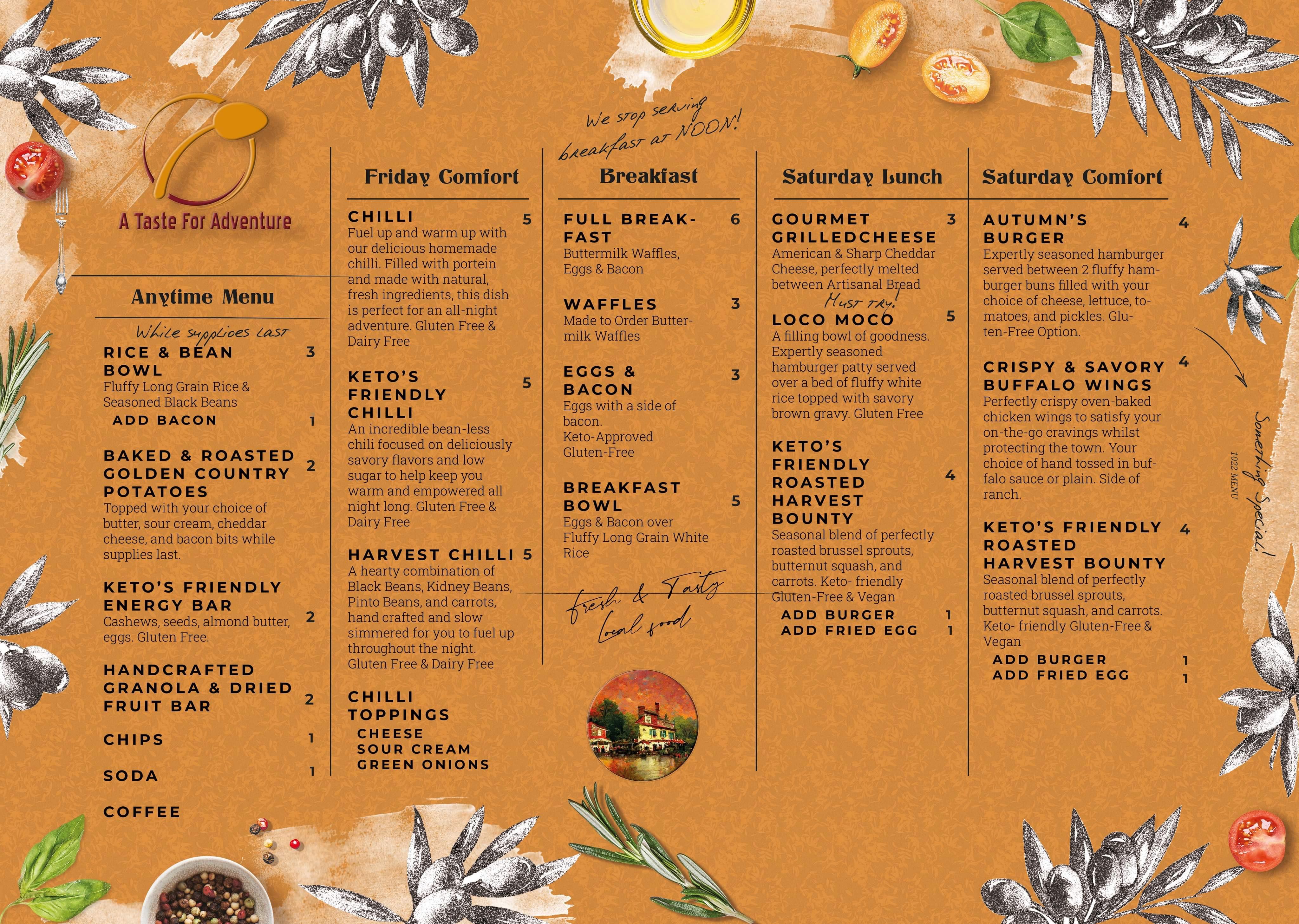 ---