Next Event!
Camp Geneva
36540 Vía Marcia, Fruitland Park, FL 34731, USA
Fri, Dec 15, 2023 6:00 PM
Sun, Dec 17, 2023 4:00 PM
---
Bulletins:
October 26, 2023 - Tavern Menu for All Hallows 2023!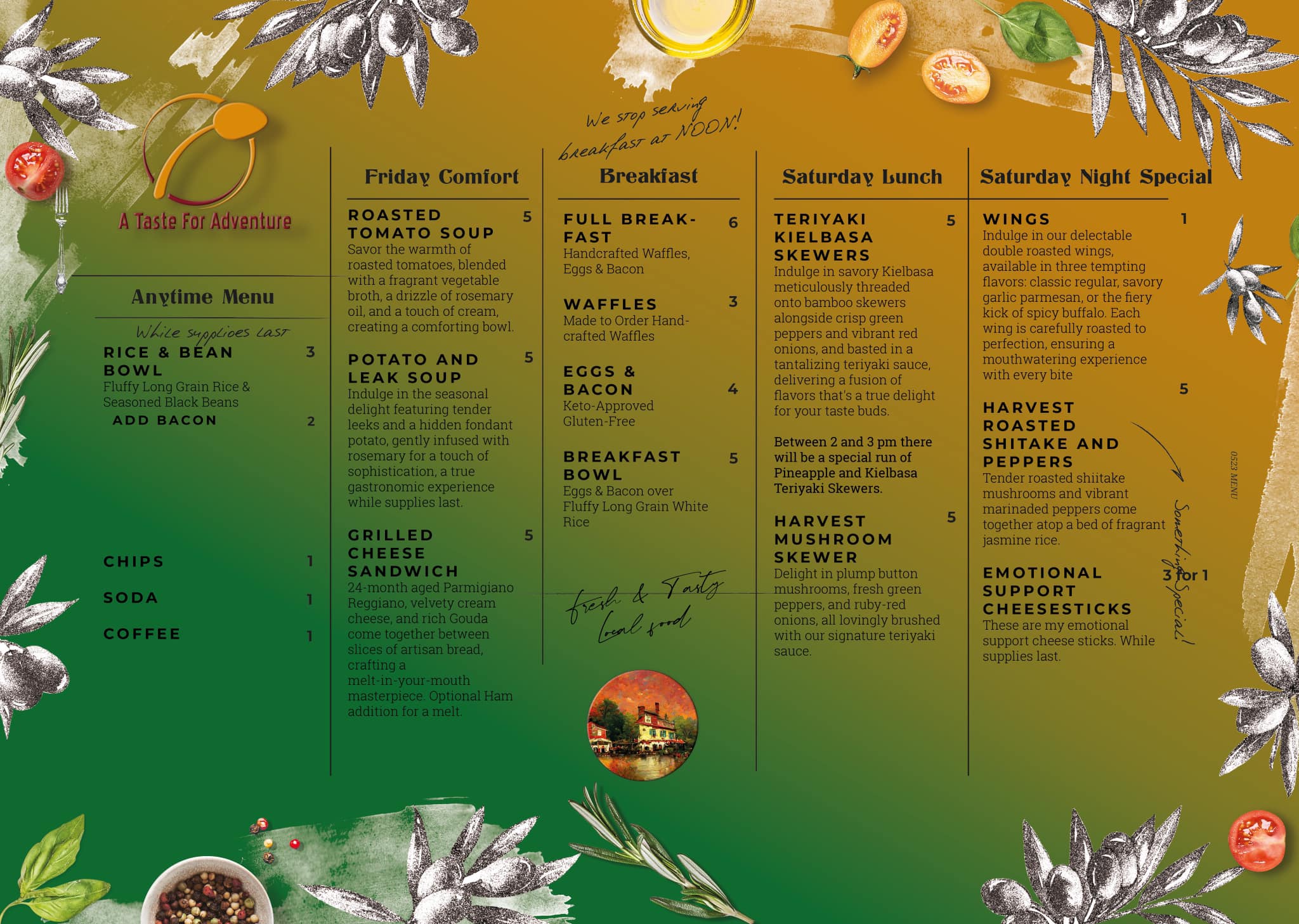 September 07, 2023 - Updates for September!
We hope everyone is excited for the first event of Season 8 that comes at the end of the month! In the lead in there are some updates we would like everyone to be aware of!

Registration for September Event

Registration goes live at 5pm on September 12th!

Newspaper Updates
From the desk of Amanda Bumgardner:

"For the last seven seasons, starting with our second event, my character, Arianne, has been the editor of the Kingdom Gazette. I loves running the newspaper, and their ten to thirty page newspaper is one of the things that makes Mythic awesome and sets us apart.
BUT, as you can see by the list above, I've gotten very busy. As you'll find out over the course of season eight, so has Arianne.
I've been looking for about two years to find someone I trusted with my baby, and at the beginning of the summer break, I talked to Steve Conover, who plays Francis Kay one of our more prolific contributors to the paper, about stepping in as editor. He, and Francis, have agreed to do so.
Arianne (and Amanda) will still be involved because the Gazette is her (our) baby, but she'll (and I) no longer be involved in the day to day.
There will still be rumors and the occasional staff post -- nothing will change as far as that goes. The email address is staying the same even!
Steve is going to do an absolutely awesome job, and I look forward to see what he does with it!"

From the desk of Steve Conover:
"Articles, Artwork, Advertisements, are sent in character to Francis Kay c/o MacCaleish Keep, Skyview, Old Wolf Lake, Aeldirmann. Email is the same as in the past kingdom.gazette.ma@gmail.com. Rumours are sent anonymously to the same email.
Season purchase is 20 crowns to be paid to Francis in September or you can write a letter to him informing your wish to purchase just that month's issue by submission deadlines for just 2 crown a copy. Limited number of extra issues will be for sale on site for 2 crown on a first come, first served basis (and Francis is an early riser...)
Inquire to Francis as to the various advertisement sizes and their costs. He has managed to keep the prices the same as last year. He can be contacted via PM on Facebook (Steve Conover).

***Don't forget*** Contributors are PAID for their submissions, Placing an advert PAYS the newspaper."
Character Approval
The first event of Season Eight, is rapidly coming upon us! That means that we are getting down to the wire for new player and alt approvals! Each marshal is going to post the absolute last day that we will approve a new character for an event. Below are some of the deadlines by racial/dutchy marshals.

Aeldirmann -- Amanda will not start any approval for any new character after September 20th. If you are planning on playing a noble, the cut off is even earlier, September 15th.
Shirelings -- Noon 9/22! If you have any questions or concerns please get them to River well in advance. If they don't have full requirements by then, you will be unable to play a shireling for the September game.
Vagabonds & Queenslands -- the cut off is the 22nd. But not midnight, his cut off is noon. He will do last minute discussions and chats on Friday itself but he would prefer to be able to say before the 22nd that you are good to go, so that we don't need to have 9pm chats scrambles. So tl;dr the library needs to know no later than the 22nd, so we should be finalizing things before the 21st, with a little bit of wiggle room during the day.

Edomere -- Kristina needs things to be fully approved by noon on the 22nd to send to the library. So if there is any chance of things needing revisions to be approved (costuming, backstory, etc), then it needs to be to her before that!

Eldar & Trolls -- If you have not begun talking to Laura about Eldar or Trolls, it's a bit too late for the September event. But! She'll happily chat and make plans for the future.
Selling Items at Festival
From the desk of Amanda:
Rules:
You must be in costume.
You must be a crafter/maker.
I would not recommend selling pixie skeletons . . . if you have any questions about what is or isn't appropriate, message Amanda. 😉
Cost:
$25 (if you are selling for USD or USD/crowns)
Free if you are selling for in game money only
Size of booth:
Let me know what you are planning to bring. I can usually accommodate.
Hours:
10am - 6pm on Saturday, September 30th
Where:
Aelthaltorn, Aeldirmann (aka Camp Geneva in Fruitland Park, FL)
This will be set up outside. There is indoor plumbing and food available to purchase at very reasonable prices on site. If you need electricity, let me know. I may need to get creative, but I can usually manage something.

We open events several times a year to outside vendors: Festival, Yule (Dec 16, 2023), the Bazaar (May 4th, 2024), and occasionally others. So if you know someone who would be interested but can't make Festival, have them message me.
Medical History Forms
Everyone's medical history form is due at this event!
Everyone must fill out a medical history in order to play. These are due at the September event or at your first event of the season.
You will find the form in the files section of the Facebook Page and on the webpage here.
You can email it to AMCAR16@AOL.COM (not mythicsignup!) on or before Wednesday, September 27th and I will print it out. If you miss the cut off, you can print it at home and bring it to the event. If you don't have a printer, you can fill one out on site.
Each form will be reviewed by a medic. All of our medics are EMTs, paramedics, LPNs, or RNs OR are fully certified by the military as medics.
If you email it to Amanda at amcar16@aol.com, she will review it privately.

After you turn in your medical history form, you will also sign your liability waiver. The liability waiver is not available online. You will need your government issued picture ID when you check in to the event.
Also, everyone that emails your form in to amcar16@aol.com will get a confirmation that Amanda has received it and printed it, so if it's been three or four days, reach out to her about it.
If you have any questions about the liability waiver, you can message Amanda on FB or via amcar16@aol.com.
July 30, 2023 - Dates To Remember: Summer 2023
Official Staff Post
Dates to Remember for Festival (September Event)
August 16th — cut off for I Know What You Did Last Summer passes and last chance to email production re: Summer passes
September 4th, Labor Day — deadline for Respec
September 12th at 5pm — Registration Opens for Festival
September 22nd — The Heroes' Library Closes
September 22nd — Pre-Production Closes
September 27th — last chance to email your medical history form
September 30th — Mythic Season 8 store closes and the first event of the season begins!
----------
I Know What You Did Last Summer
Last Date to buy is August 16th.
Last Date to send in Production for the I Know What You Did Last Summer bonus is August 16th at midnight.
------------
Respec
Labor Day, Monday, September 4th, is the last day to send in your character respect to the Library.
--------------
Registration for Festival (September Event)
Registration goes live on Tuesday, September 12th at 5pm. A post will be made at that time with a link to the website and the PayPal donation page. The tests of the registration form on the webpage went insanely well, so I'm going to continue to encourage the use of that form.
(If you are registering multiple people, bypass it and use the mythicsignup@gmail.com address directly.)
I will post instructions on how to register closer to the event, but the webform is really the biggest change, so if new players want to look at the pinned/saved/whatever FB is calling it these days, feel free.
-----------------
Character Creation and the Heroes' Library
Each marshal has their own cut off for when they stop accepting character creation applications/conversations. Check in with the new player liaisons and your marshal to find out yours. Aeldirmann is one of the latest, I believe, and I won't approve any new player I have not already spoken with after Wednesday, September 20th (for Festival).
NO marshal will approve a new player during check in.
The library closes at 11:59 pm on Friday, September 22nd to new submissions and updates so that your character sheet can be ready and waiting for you at check in.
--------------
Production
Production closes for the pre-production bonus at 11:59 pm on Friday, September 22nd. (This does not include the Summer Pass. The deadline for that is August 16th.)
----------------
Medical History forms
Everyone who has a pulse and attends the Festival (September Event) needs to fill out a medical history form and liability waiver. The medical history form is found on the website and in the forms section of the FB page.
You can fill it out using a PDF reader, Open Office, Pages, Microsoft Word, a plain text editor — whatever you use to type and edit documents, and then email it to amcar16@aol.com. If you are emailing it, they are due at 11:59 pm on Wednesday, September 27th. (Quickest method, most private method)
Otherwise, they are due on Friday, September 30th during checkin.
More on how to do this will be posted closer to the event, but the instructions from Season Seven are pinned/saved/whatever FB is calling it these days, so feel free to review them.
--------------------
Mythic Season Eight Store
All items are on sale through Friday, September 30th when you check in. If you are not attending the September event, it will close at midnight.
*There are a limited number of Monster Be Gones. If the number available falls under ten, I will make a post. I will also post if we sell out of them prior to the event.
**Pay It Forwards are available year round. While this has usually been a directed purchase, a fair number of players have been buying them and donating them to the game. Gary and I think this is an AMAZING idea, and as we often are, are blown away by the kindness and generosity of our player base. We are discussing with the New Player Liaisons the best way to distribute these tickets.
-------------------
Festival
Arrival time and check in for Festival aka the Carnival of Carnies aka the Viceroy's Least Favorite Party starts at 5pm on September 29th!
Check in is going to be MUCH busier at this event than any other of the season since everyone's Medical History forms are due. Please keep this in mind as you arrive no earlier than 5pm.
I will update and post How to Check In closer to the event, but last seasons is still in the pinned/saved/whatever FB is calling it these days section.
July 18, 2023 - Rulebook & Website Updates!
Greetings Adventurer's!
I hope everyone is resting and recovering from a fun filled weekend at Metrocon 2023! To tide you over for the upcoming season opening, there are some rulebook and website updates for you to browse through!
Knights have a new ability at level 50: Additional Knight Abilities!
Armor Runes have been updated! Check out all the changes in the Runes Section!
All the human duchies have been updated with the various weapon, magic, or production affinties! Head over to the Races Section to see them all!
Finally, our static link to the rulebook in the sidebar has been updated! If you are one of the many people who like to download the book to your local device, make sure to load up the new version!
May 11, 2023 - Tavern Menu for Mythic Gala!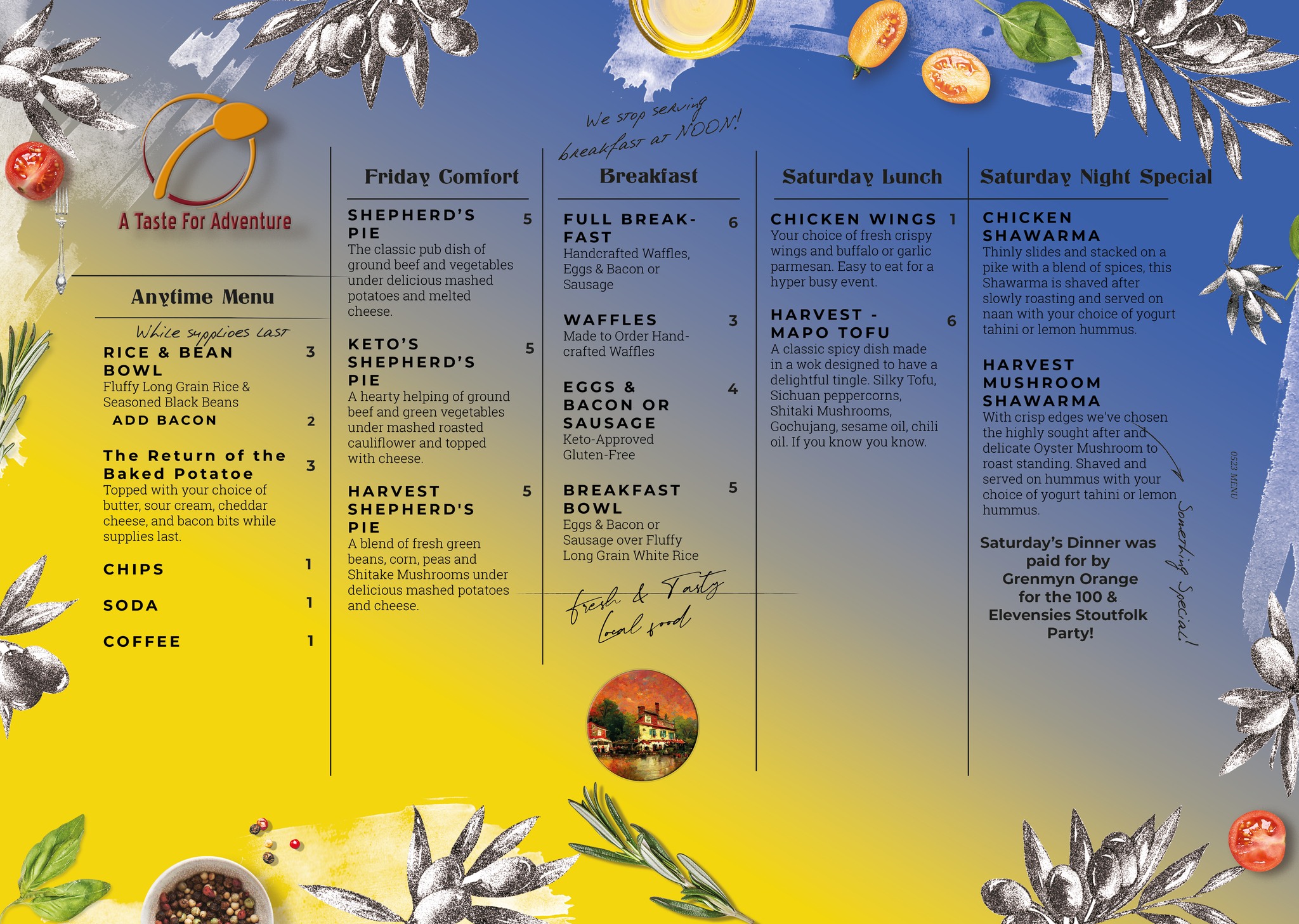 ---